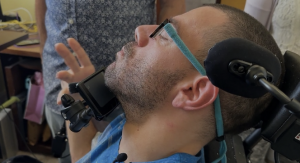 However, Since Tracking Began in 2008, the Vast Majority of Disabled People, 79% Remain Unemployed. Here is One Man's Plight:
We need to make every single thing accessible to every single person with a disability."
— Stevie Wonder
PORT ORANGE, FL, USA, October 10, 2023 /EINPresswire.com/ — October is National Disability Employment Awareness Month. The struggles of disabled people are near and dear to my heart for the simple reason that I myself, am permanently and totally disabled due to severe spinal cord injuries received in several not-at-fault motor vehicle accidents.
The struggles of disabled of some disabled people are obvious. The struggles of others is not so obvious. Neither is the physical pain that most disabled people endure. Another struggle of the disabled that most people don't consider is the struggle to find gainful employment. In some cases, gainful employment is found. In other cases, the vast majority of cases, gainful employment is not found.
For those of us who do not have the good fortune of enjoying gainful employment, we still want to contribute to society in any way that we can. In short, disabled or not, we all want to make our world a better place to live in.
One such person is Steven Berkani, a 32-year-old gentleman who writes, produces, directs, and edits public service announcements (PSAs) and short films to help others live better.
While Steven works for the benefit of others, his wonderful family aids him every step of the way. His mother, Karen; father, Julien; brother, Chris and sister, Melissa Grooms all have much to be proud of. There is much to be proud of in Steven's film work. There is also much to be proud of in the way the Berkani family works as a team.
One area of difficulty for Steven and his family is funding the equipment necessary to perform his film work that is of such great benefit to others. This is why he has created a gofundme campaign to replace his dated video equipment, which can no longer keep the pace of his volunteer workload that results from his fierce commitment to helping others. As one would expect, Steven also needs adaptive equipment to be able to write, direct and edit his worthy films.
"We need to make every single thing accessible to every single person with a disability." – Stevie Wonder
To Contribute to Steven's gofundme Campaign:
GoFundMe.org is a registered 501(c)(3) public charity. EIN: 81-2279757.

8605 Santa Monica Blvd, #88639, West Hollywood, CA 90069
To date, Steven has raised $2,575 out of his $10,000 goal. He's nearly 26% of the way toward owning the video equipment that he needs in order to keep up his great work contributing to society with his wonderful PSAs!
Let's all of us, help Steven with the other 74%. Let's help Steven reach 100% of his goal of helping others!
Steven P. Berkani Productions You Tube Channel
Steven P. Berkani in the Internet Movie Database (IMDb)
While Steven has had to fight Cerebral Palsy since birth, he has also struggled to obtain work. Even volunteer work is a struggle for Steven as he seeks to obtain adaptive modern video editing equipment to help him manage his important work.
In Steven's own words on his gofundme page:
"Hello, I'm Steven Berkani, an aspiring filmmaker on a mission to create powerful videos that ignite change. I'm reaching out to you for your valuable support in acquiring essential editing equipment that will take my filmmaking to new heights.
Living with Cerebral Palsy, I've faced and conquered challenges. I've been using my chin to edit videos on equipment that's nearly a decade old. However, in order to continue honing my craft and delivering high-quality content, I need a significant upgrade. The cost of new equipment is a challenge I face, and your contribution will directly help bridge this gap.
Your support will enable me to acquire modern editing tools, software, and necessary adaptations that will exponentially improve my video production capabilities. By standing with me, you're enabling my creativity to flourish and empowering me to bring to life stories that matter.
The journey of inclusive filmmaking is one we can undertake together. Your generosity will not only help me overcome financial barriers but also allow me to continue producing impactful videos that drive social change. Thank you for being a part of this significant endeavor."
#EmpowerCreativity #InclusiveFilmmaking #MakeAnImpact
In this month of October, which is Disability Employment Awareness Month, let's first be aware of the struggles of the disabled. Second, with this awareness, let's do something to make a difference, just as Steven Berkani does!
About Smith Profits, a Robert J. Smith Productions Company:
Smith Profits has been produced game-changing marketing campaigns since the day its founder Robert J. Smith, began with and advertisement that produced dramatic results while at John Hancock in 1993. Smith Profits
Today, Smith is an award-winning writer and international bestselling author who has set worldwide production records for Fortune Global 500 companies as well as small and medium-sized businesses. Smith is a member of the Forbes Business Council. Featured Forbes Articles.
Robert J. Smith Productions is located in Winter Garden, Florida. The company's core businesses include Advertising, Branding, and Content; Public Relations and Influence; Books and Comic Books That Sell Your Company's Products and Services; Television, Commercials and Film. Robert J. Smith Productions
For more information, visit Robert J. Smith, and follow us on YouTube, Twitter, LinkedIn and IMDb.
Media Contacts: Robert J. Smith, MFA, Forbes Business Council (407) 508-0200. [email protected] and Britt Reid [email protected].
SOURCE – Steven Berkani
Robert Smith
Robert J. Smith Productions
+1 407-508-0200
email us here
Visit us on social media:
Facebook
Twitter
LinkedIn
Instagram
YouTube
Other
Welcome To My YouTube Channel!


Originally published at https://www.einpresswire.com/article/660159466/the-rate-of-employment-for-disabled-people-is-at-an-all-time-high-since-the-bureau-of-labor-statistics-began-tracking-it