Farahi Law Firm continues with its mission to make education accessible to all through its Back to School giveaway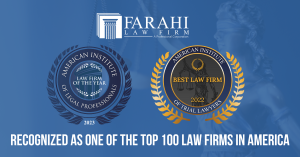 Farahi Law Firm Awarded 2023 Best Law Firm
Farahi Law Firm went beyond the courtroom to make a strong impact in the community by giving out tablets, school supplies at their recent Back-to-School event.
Beyond giving away tablets and school supplies, this event is about investing in the future and ensuring that every child starts their academic journey on the right foot."
— Atty. Justin Farahi
LOS ANGELES, CALIFORNIA, UNITED STATES, August 31, 2023/EINPresswire.com/ — As families gear up for the new school year, Farahi Law Firm went beyond the courtroom to make a tangible impact in the community with their recent Back-to-School event.
Steered by the firm's founder, Justin Farahi, this event was not just about providing essential school supplies to the children, but also about cultivating a strong sense of community togetherness. A large number of parents and children participated, transforming the event into a hub of excitement, joy, and thanksgiving.
Each child gleefully received a backpack loaded with school essentials, symbolizing not only academic readiness but also new horizons of possibilities. Such gestures reinforce the notion that "education is a cornerstone of empowerment," as aptly put by Atty. Farahi.
Feedback from the community has been overwhelmingly positive. Parents voiced their heartfelt gratitude, acknowledging the firm's timely support in an era that has tested the resilience of many.
What set this year's event apart was the exhilarating raffle that saw seven children walk away with brand new Samsung tablets. This not only added a dash of extra joy to the day but showcased the lengths to which Farahi Law Firm is willing to go to uplift their community.
"This wasn't just about school supplies. It's about unity, camaraderie, and showing our community that they're not alone. It's about the future and ensuring every child starts their academic journey on the right foot," shared co-organizers who worked tirelessly to make this event a grand success.
Atty. Farahi further emphasized the firm's broader vision, stating, "Our community's well-being remains a priority. This event underscores our relentless commitment to nurturing a brighter future for everyone."
This Back-to-School event further cements Farahi Law Firm's reputation not only as a legal stalwart but also as a compassionate community pillar. Their dedication and relentless effort have indeed demonstrated how businesses can play pivotal roles in catalyzing positive change in society.
For more information about upcoming community initiatives, or to get in touch with Farahi Law Firm, please contact [email protected].
About Farahi Law Firm

Based in Los Angeles, Farahi Law Firm specializes in the field of personal injury. With a deep commitment to the community, the firm has consistently demonstrated its dedication to not only serving legal needs but also in being a pillar of hope, compassion, and unity.
Farahi Law Firm has a rich history of fighting for justice. They prioritize victims' rights, ensuring the best possible legal representation, especially in complex scenarios like wildfire claims. It was named Best Law Firm of 2023 by the American Institute of Trial Lawyers and the American Institute of Legal Professionals.
Justin P. Farahi is an award-winning personal injury lawyer in California. Since the foundation of Farahi Law Firm, APC, he has focused on helping the Californian community by allowing the less fortunate to access quality medical treatment and the best legal representation after an accident. The American Law Institute recognizes him as one of the Top 40 under 40 Lawyers in America. He was also awarded as one of the Top 100 Lawyers in the USA, a Super Lawyer Rising Star, and 2022 Attorney of the Year by the National Alliance of Attorneys.
Justin Farahi
Farahi Law Firm, APC
+1 310-774-4500
email us here
Visit us on social media:
Facebook
Twitter
LinkedIn
Instagram
YouTube
What does Justice Mean to You? – Farahi Law Firm, APC


Originally published at https://www.einpresswire.com/article/652882225/farahi-law-firm-s-back-to-school-gift-giving-fulfills-mission-to-help-children-succeed-in-school