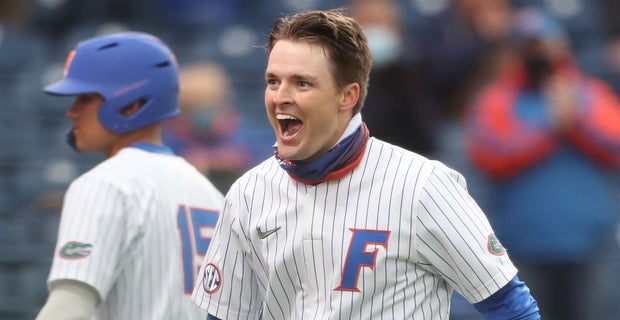 The No. 12 Florida Gators (20-9, 5-4 SEC) took care of business Wednesday night in a midweek non-conference matchup with the Florida A&M Rattlers (10-17, 4-0 MEAC) completing the game in seven innings and winning 10-0. An agreement was made before the game between the two managers that if the score was 10 runs or more difference after seven innings the two teams would call it a night. Florida got their walk-off run on a freshman Nathan Hickey single to left field. It was his fourth hit of the contest.
The Florida pitching staff only gave up two hits on the night, a couple of singles, but combined giving up 10 walks and one hit batsman which prolonged innings and made things dicey early on when the score was closer. The Rattlers would strand 13 base runners on the night, even with just the two hits.  Florida freshman Chase Centala (2.0 IP, 0 ER, 1 H, 1 SO, 2 BB) got the win while freshman Timmy Manning (2.2 IP, 0 ER, 0 H, 2 SO, 6 BB) got the start. Sophomore David Luethje (1.2 IP, 0 ER, 0 H, 0 SO, 2 BB) relieved Centala whole junior Jordan Butler (0.2 IP, 0 ER, 1 H, 2 SO, 0 BB) came in and finished things off on the mound for Florida in the seventh.
Florida head coach Kevin O'Sullivan was asked about starter Timmy Manning and why he wasn't throwing strikes.
"It wasn't just him, we had eight walks with two outs tonight after five innings," Sully said. "It's just a matter of closing out innings. It's probably more of a mental block than anything else. We kind of got a glimpse of how good his stuff was. His fast ball was really good. His breaking ball was really good. He threw some quality changeups. For whatever reason, he hit on a little bit of a mental block with two outs. He wasn't the only one. Chase fell into the same situation and obviously David a little bit too. It was kind of an odd game. We gave up two hits and walked 10 and hit a batter and we don't give up any runs. That's probably not going to happen very often. I guess that's what they call baseball. We have to do a better job of throwing the ball across the plate."
At this point it's up to the pitchers to get it in their heads about throwing strikes with two outs.
"I really don't know how you practice that," Sully continued. "They know what they're doing wrong. We're just not attacking the strike zone with two outs. It's like any other sport, basketball and free throw shooting. They just have to know that they need to go out there and close out innings."
The Gator bats were alive. Hickey (4-of-5, 3 RBI, 2B) of course was on fire and has moved his team leading batting average to .369 on the year. Freshman Colby Halter (2-for-4) and junior Cal Greenfield (2-for-4, 2 RBI) were the other Gators with multiple hits on a night where they amassed 12 in just the seven innings. Greenfield started at catcher and we saw Hickey playing first in an unusual twist in the contest.
Here is how the game played out…
While Manning walked one in the top of the first, he struck out the side to get out of it unscathed on the scoreboard. The Gators jumped on the scoreboard early in the bottom half. After the first two Gator batters got out, senior Kirby McMullen was hit-by-pitch. Freshman Sterlin Thompson then walked in four pitches and that was followed by a sophomore Jud Fabian Homerun plating all three and the Gators were up 3-0 after one.
 Manning walked a couple in the second but kept them from coming home. Meanwhile the Gators added to their lead in the bottom half. With one out, Greenfield singled to center field. Young was hit-by-pitch putting two on and Hickey doubled down the right field line scoring both runners. The Gators led 5-0 after two.
The score remained unchanged through the third, fourth, and fifth with Centala coming on to replace Manning with two outs in the third and Luethje replacing Centala with two outs in the fifth. It was still Gators up 5-0 after five.
Luethje walked a batter and hit one but stayed on the mound to complete the sixth without allowing a run cross, but the Gators added to their lead in the bottom half. Young and Hickey hit back-to-back one-out singles before McMullen singled through the right side scoring Young and the Gators were up 6-0 after six.
Luethje returned to the mound in the seventh and got an out before giving up a walk and that would be all of him. O'Sullivan went with Butler to close it out and he gave up a single but struck out the other two batters he faced. Florida had to get four more runs to end it early and did so in the bottom half. Halter singled to left to lead off. Freshman Jordan Carrion walked behind him. Freshman Cody Acton was hit-by-pitch to load the bases. Greenfield singled up the middle scoring a couple and moving Acton to third. Young walked loading the bases and then a wild pitch advanced everyone including Acton scoring. Then Hickey singled to third scoring Greenfield and the Gators hit the 10-0 mark to end it.
With Hickey's hot batting average he usually gets walked in a game. After hitting three times already, pitching to him straight-up at the end was not what he expected.
"I was actually very surprised," he said. "It's probably the first or second game of the year that I can think of (not getting a walk)."
The second year freshman said the feeling afterward was a new one.
"It was good," he said. "It was fun. I don't think I ever had a walk-off even though it wasn't a true walk-off, it was fun just getting the last hit of the game."
O'Sullivan said wasn't actually keen on the run-rule added to the game, but he gave in because FAMU has a tough Friday ahead of them.
"(Rattler head coach Jamey Shouppe) is the one that asked me before the game because they have to play a double-header on Friday because they have bad weather coming in on Saturday," Sully said. "I agreed to it and it's not ideal, but it worked better for him for the weekend coming up."
Fabian, who had the homerun, says that the last few games have been good for the psyche of this team as they head into a big three-game series with Tennessee this weekend.
"I feel like these last few games have brought it up," he said about team confidence. "We're dangerous when we play confident. Look for us to play confident this weekend."
Sully just wants to see more of it.
"I think we are showing spurts of being a good offensive team, we've just been up and down," he said. "The biggest challenge for us is moving on to Tennessee and playing on the road again. I think that's the next step for this team, to be able to prove that they can play on the road and play like we're at home."
The Gators travel to No. 6 Tennessee for a three-game tilt. O'Sullivan hasn't given away his hand on who is expected to start Friday but it should be between juniors Tommy Mace and Franco Aleman and sophomore Christian Scott. One of the other two should get the start on Saturday. Friday's game has a first pitch scheduled at 6:30 p.m. and will be streamed on SEC Network+.