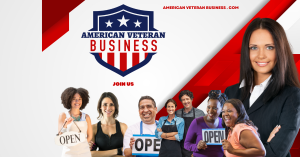 Veteran Business Owners are United! Shop a Veteran business owner today! Find a home services professional, restaurants and more!
FORT MYERS, FL, US, September 2, 2023/EINPresswire.com/ — AmericanVeteranBusiness.com, the newest hub for veteran-owned businesses, is proud to announce its official launch as the go-to online platform for veterans and veteran business owners across the nation. This groundbreaking website is not just another directory; it is a dynamic space infused with cutting-edge technology and supported by a premier, national, veteran-owned marketing agency, Discover Maestro with an impressive track record.
With over 1 million visits per year to Discover Maestro's websites uniting military and veterans and a thriving community of more than 300,000 members on their Facebook groups and pages, AmericanVeteranBusiness.com is poised to become the central hub for veterans and businesses alike.
The platform offers a multitude of features and resources, including:
Business Directory: Veteran business owners can easily add their businesses to the directory, gaining exposure to a national audience.
News and Updates: Stay informed with the latest news and trends relevant to veteran businesses and their communities.
Event Listings: Discover upcoming veteran-related events, workshops, and networking opportunities in your area.
Cutting-Edge Technology: AmericanVeteranBusiness.com is designed with state-of-the-art technology to ensure a seamless user experience.
Employment Listings: There is now a place to find businesses looking to hire Veterans!
Expert Marketing Support: Backed by a premier marketing agency, the website provides expert guidance and support to veteran business owners looking to enhance their online presence.
"We are thrilled to introduce AmericanVeteranBusiness.com as the premier destination for veteran-owned businesses and their supporters," said David Maestas, CEO of Discover Maestro and creator of AmericanVeteranBusiness.com. "Our mission is to provide a platform that not only promotes veteran-owned businesses but also fosters a sense of community and camaraderie among veterans and their allies. With our advanced technology and the support of our trusted marketing agency, we aim to empower veteran entrepreneurs to succeed and thrive."
For veteran business owners looking to showcase their businesses or for those seeking to support the veteran community, AmericanVeteranBusiness.com is the ultimate resource. Join the movement today and be part of a vibrant community dedicated to the success of veteran-owned businesses.
To learn more about American Veteran Business and to add your business to the directory, or schedule a meeting, visit AmericanVeteranBusiness.com
For press inquiries or additional information, please contact:
David Maestas
[email protected]
360-545-3874
About AmericanVeteranBusiness.com:
AmericanVeteranBusiness.com is the premier online destination for veteran-owned businesses, news, events, and resources. Backed by a national, veteran-owned marketing agency with a strong online presence, AmericanVeteranBusiness.com aims to empower veteran entrepreneurs, connect veterans and their supporters, and promote the success of veteran-owned businesses nationwide. We have developed directory websites for cities, counties and organizations with cutting edge technologies that enhance every aspect of the site to garner interest for it's members.
David Maestas
Discover Maestro
email us here
Women Veteran Business Owners Are Here!
Originally published at https://www.einpresswire.com/article/653458387/introducing-americanveteranbusiness-com-the-premier-destination-for-veteran-owned-businesses-news-events-and-more