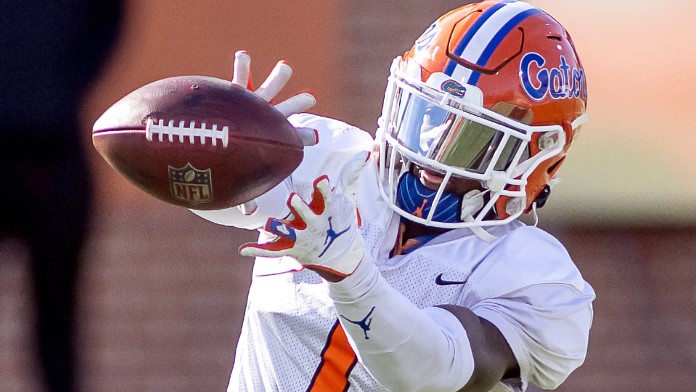 Jeremy Fowler of ESPN reports that the San Francisco 49ers are among the NFL teams scheduled to hold a pre-draft meeting with Florida wide receiver Kadarius Toney. The others are the Washington Football Team and the Jacksonville Jaguars. He has already met with the Arizona Cardinals and Detroit Lions, per the report.
"A first-round option for teams looking for playmaking," wrote Fowler.
It's worth noting that the 49ers currently own just one first-round pick and are expected to select a quarterback. The team's next selection is in the second round — No. 43 overall.
Toney registered 70 receptions for 984 yards with 10 touchdowns through 11 games as a senior in 2020, per Sports Reference. His 20 forced missed tackles this past season ranked fifth among collegiate players, per Pro Football Docus. The wideout was also a contributor on special teams, recording seven kick returns for 155 yards and 11 punt returns for 139 yards and a score.
Toney has caught 120 passes for 1,590 yards with 12 touchdowns through his four collegiate seasons. He is from Mobile, AL. The receiver earned a pre-draft grade of 6.36 from NFL.com, which equates to a "starter within first two seasons," per the site's 8-point grading scale.
Below is the NFL.com draft profile bio on Toney:
Toney came to Gainesville from Mobile, Alabama, after winning Class 6A Back of the Year honors as a senior quarterback at Blount High School. He started twice in eight appearances as a true freshman for the Gators, once at receiver (15 receptions, 152 yards, 10.1 average) and once at running back (14 carries, 120 yards, 8.6 yards per carry, one touchdown), despite battling injuries during the season. Toney was suspended for the first game of the 2018 season for "not living up to the Gator standard." He suited up for 12 games in a reserve role that year, even playing some Wildcat quarterback (25 receptions, 260 yards, 10.4 average, one TD; 21 carries, 240 yards, 11.4 yards per carry; six kick returns, 133 yards, 22.2 average). He played that Wildcat role again in 2019 but could only play in seven contests due to a shoulder injury (10 receptions, 194 yards, 19.4 average, one TD; 12 carries, 59 yards, 4.9 yards per carry). Toney exploded into the national college football consciousness in 2020, leading the Gators' potent offense with 70 receptions for 984 yards (14.1 per) while scoring 10 touchdowns (tied for seventh most in the FBS). He also contributed as a runner (19 carries, 161 yards, 8.5 yards per carry, one touchdown) and returner (seven kick returns, 155 yards, 22.1 average, 11 punt returns, 139 yards, 12.6 average, one touchdown) in 11 starts. The Associated Press voted him second-team All-American as an all-purpose player, SEC league coaches voted him first-team all-conference in that realm (second-team as a receiver) and he was a finalist for the Paul Hornung Award (most versatile performer). He opted out of the Gators' bowl game and accepted an invitation to the Senior Bowl. — by Chad Reuter
Lance Zierlein of NFL.com, who compares Toney to Harry Douglas, wrote the following about Toney within his scouting report:
Slot talent who competes like a player bigger than his listed size. Toney has battled injuries, which helped cap his production until the 2020 season, when it finally clicked for the entire offense. His routes can look like one-on-one isolation basketball moves at times, but he has the ability to make instant cuts and break his routes off sharply. He could become a much more creative and consistent route runner in due time. He's an atypical NFL slot in some ways and is likely to do his best work in a scheme that allows him plenty of run-after-catch opportunities. He'll need more polish but should contribute right away as a receiver and punt returner.
Jordan Reid of The Draft Network wrote the following about Toney within his scouting report:
A two-sport athlete competing in track and football, Kadarius Toney played quarterback during his final two seasons at Blount High School (Alabama). As a junior, he threw for 3,604 yards, while rushing for another 896 yards, while scoring a combined 53 touchdowns The totals propelled him to becoming a Class 6A second-team all-state selection. During his final season, Toney worked his way to 2,894 passing yards, totaling 894 rushing yards and 47 total touchdowns. He finished his career with a 20-5 overall record and being named as the 2016 Class 6A Back of the Year, as well as being named an all-state selection for the second consecutive year. After some believed he was leaning toward signing with Alabama, Toney opted to sign with Florida. As a true freshman, he was labeled as an athlete, but the experiment there only lasted through training camp as he was moved back and forth between running back and receiver. Playing in eight games during his first season, he battled nagging shoulder and shin injuries that kept him out of three games.
Pro Football Focus wrote the following about Toney within its draft guide:
It's players like Toney who make football the greatest game in the world. The way he stops and starts in the blink of an eye is truly amazing to watch. He has the kind of flexibility and explosiveness in his lower half that allows him to break tackles in ways I've truly never seen before. It's why he broke 32 tackles on only 80 catches the past two seasons. More of a gadget player early in his career, Toney finally looked like a true receiver in 2020. He's not a polished route-runner by any means, but he showed all the ability needed to separate consistently in the NFL.
Dane Brugler of The Athletic wrote the following about Toney within his draft guide:
A one-year starter at Florida, Toney lined up across the formation in head coach Dan Mullen's offense, seeing snaps in the backfield, slot and outside. A former high school quarterback, he was listed as an "athlete" on the Gators' roster and battled injuries and transition issues his first three seasons before leading Florida in receptions and receiving yards as a senior. A loose, elastic athlete, Toney routinely makes the first man miss with special start/stop twitch, frustrating would-be tacklers and creating explosive plays. Though he is an improved route-runner, he remains a work in progress with his steps and tempo, and his freelancing will backfire at times. Overall, Toney is still more of a gadget player than polished receiver (and his off-field and durability will be debated in war rooms), but he boasts the one-step burst, body balance and underrated toughness to be a big-play ignitor. He projects as a versatile NFL weapon on offense and special teams.
Measurables
Height: 6-0
Weight: 193 lbs.
Arm length: 30.5 inches
Hand length: 9.5 inches
College Statistics
Year
School
Class
G
Rec
Yds
Avg
TD
2017
Florida
FR
8
15
152
10.1
—
2018
Florida
SO
12
25
260
10.4
1
2019
Florida
JR
7
10
194
19.4
1
2020
Florida
SR
11
70
984
14.1
10
Total
Florida
120
1,590
13.3
12
More San Francisco 49ers News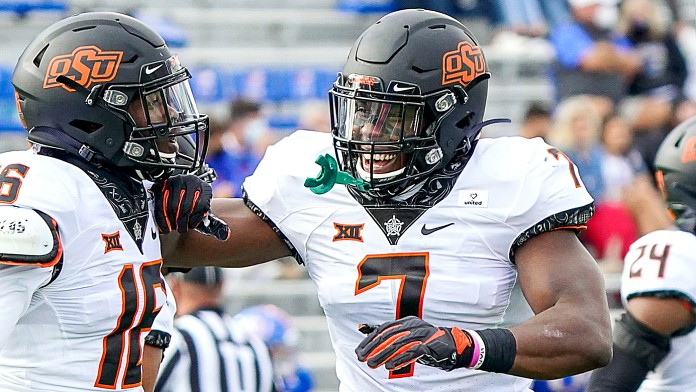 49ers held pre-draft meeting with Oklahoma State LB Amen Ogbongbemiga
By David Bonilla
Apr 1, 2021
According to Aaron Wilson of the Houston Chronicle, the San Francisco 49ers are among the reported teams that have met with Oklahoma State linebacker Amen Ogbongbemiga. Some of the others include the New England Patriots, Denver Broncos, Los Angeles Rams, and Arizona Cardinals.
Oklahoma State linebacker Amen Ogbongbemiga has met with several teams virtually, including the New England Patriots, San Francisco 49ers, Denver Broncos, Jacksonville Jaguars, Los Angeles Rams, Indianapolis Colts and Arizona Cardinals. https://t.co/Kyu6Muj4Xa— Aaron Wilson
49ers held pre-draft meeting with Auburn WR Eli Stove
By David Bonilla
Apr 6, 2021
According to Justin Melo of The Draft Network, the San Francisco 49ers are among the teams to meet with Auburn draft prospect, wide receive Eli Stove. The others include the Los Angeles Rams, Los Angeles Chargers, Buffalo Bills, New Orleans Saints, and several others.
Auburn WR/KR/PR Eli Stove, 5-11, 194. I can see Stove making a roster. Returned kicks/punts in 2020, played on every special teams unit as a gunner as well.Stove has met with the #Rams,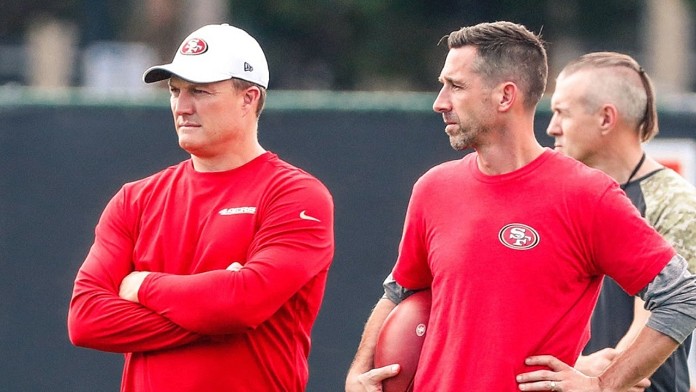 49ers 2021 Pre-Draft Visit/Meeting Tracker
By Site Staff
Apr 6, 2021
This list will grow as the 2021 NFL Draft quickly approaches. The San Francisco 49ers have been meeting with potential draft selections, both virtually and in-person, since January. NFL teams are permitted to physically host only a limited number of prospects, due to the COVID-19 pandemic. A vast majority of the interviews will be conducted virtually.
NFL teams will not hold local pro days due to the pandemic.
Below is a breakdown of the known meetings between draft prospects and 49ers representatives, as reported by various media sources. The representatives could be members of the coaching staff, front office, and/or team scouts. The 49ers' draft picks and scheduled interviews are listed first.
Dates (if known) of the meeting or workout are listed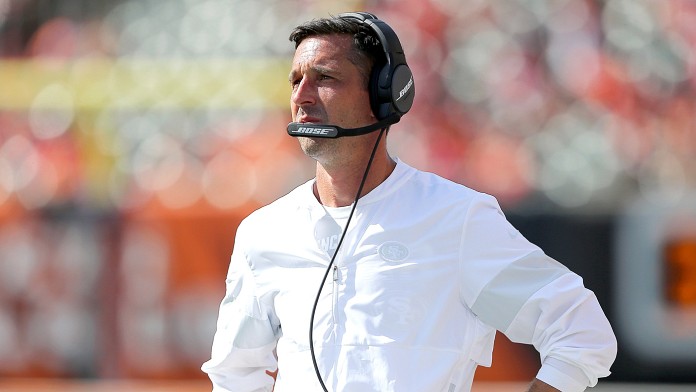 Adam Schefter convinced 49ers draft Mac Jones, hold onto Jimmy Garoppolo
By David Bonilla
Apr 6, 2021
Adam Schefter joined ESPN radio on Tuesday morning and voiced his opinion on who the San Francisco 49ers will select with the No. 3 overall pick on April 29. Much of the media predicts that player to be former Alabama quarterback Mac Jones, and Schefter sees that as the most likely outcome, too.
"Oh, it'll be Mac Jones," Schefter responded when asked for his prediction.
What does that mean for quarterback Jimmy Garoppolo, who general manager John Lynch and head coach Kyle Shanahan have stated remains in the team's plans for 2021? The 49ers view themselves as contenders and don't want to throw in a rookie to lead the offense. Garoppolo is familiar with the playbook, and his teammates trust him.
With next year's rookie quarterback class not expected to